Menus
Great news for our Anderson School District One families! All students (face to face and Virtual Learning Academy) will be eligible for free meals for the entire 2020-2021 school year! Beginning Thursday, September 10, 2020 - Free meals to all children 18 years and younger, even if they are not a registered Anderson School District One student.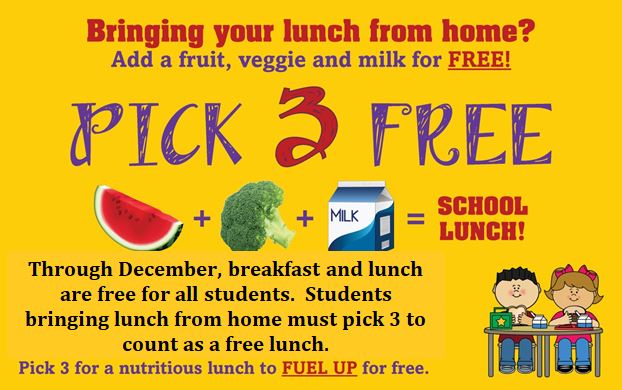 Meals will be available for pick up on all school days from 11:00-12:00 at Palmetto Middle School, Wren Middle School and Powdersville Middle School. There will be a Student Nutrition Services team member at the front entrance of the school for car line pick up only. These meals will be pre-bagged lunches for the day of pick up, and a bagged breakfast for the following school day.
You will not need to leave your car for the pick up of any meals, and the child does not need to be present in order to receive the free meals. Our Student Nutrition Services team member will ask for the child's name and the name of the parent/guardian picking up the meals for our required documentation to the SCDE.
2020-2021 School Meal Prices
ADULT BREAKFAST/ 2nd Meal: $2.55
Breakfast Entree: $.75
ADULT LUNCH/ 2nd Meal: $4.00
Lunch Entree: $1.75
For information, policy, and procedures on meal pick ups for Virtual Learning Academy and E-learning please visit:
https://www.anderson1.org/cms/lib/SC01000609/Centricity/Domain/1/School%20meal%20plan%20for%20students%20attending%20A1%20Virtual%20Learning%20Academy.pdf
Meals, foods and beverages sold or served at schools meet state and federal requirements based on the USDA Dietary Guidelines. All meals, foods and beverages are prepared and served by qualified child nutrition professionals. We provide students with access to a variety of affordable and appealing foods that meet the health and nutrition needs of students.
Click arrows to scroll through months

Nutrition Info

ELEMENTARY BREAKFAST NUTRITIONAL INFORMATION.pdf
ELEMENTARY LUNCH NUTRITIONAL INFORMATION.pdf
HIGH SCHOOL BREAKFAST NUTRITIONAL INFORMATION.pdf
HIGH SCHOOL LUNCH NUTRITIONAL INFORMATION.pdf
MIDDLE SCHOOL BREAKFAST NUTRITIONAL INFORMATION.pdf
MIDDLE SCHOOL LUNCH NUTRITIONAL INFORMATION.pdf
VIRTUAL ACADEMY BREAKFAST NUTRITIONAL INFORMATION.pdf
VIRTUAL ACADEMY LUNCH NUTRITIONAL INFORMATION.pdf